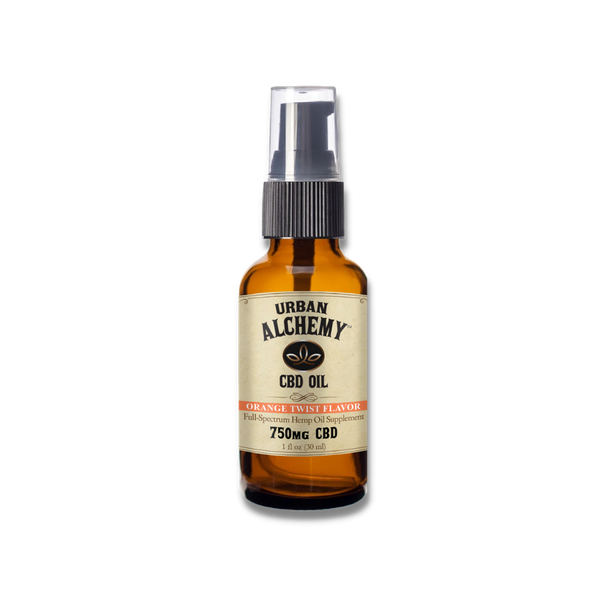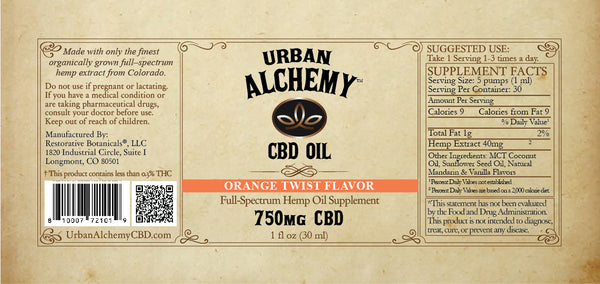 Naturally balancing & invigorating. Get a potent

 

body buzz without the "head fog." 

With a bright & citrusy sweet flavor, this oil blend provides advanced support to your body's interconnected systems.*
Full spectrum, CBD-rich extracted hemp oil, MCT coconut oil, & sunflower seed oil blended with natural chocolate mint extract
25 mg CBD per serving (ml)
Organically grown certified Colorado hemp
No added sugar or artificial sweeteners
Urban Alchemy™ Orange Twist™ CBD – Urban Alchemy's trio of CBD-rich full-spectrum hemp oil blends contains 750mg of CBD gold. Available in Pure Hemp, Orange Twist, and Cocoa Mint, our flavors are as diverse and unique as the individual who takes them. One bottle of our powerful product is equivalent to 3x the potency of other industry average blends. Our customers experience a new, functional and healthy high. The strong body buzz without the "head-fuzz" creates a state of canna-bliss, allowing you to SLAY all DAY! 
Our proprietary blend of CBD rich hemp extract, MCT Coconut, and Sunflower seed oils provides high quality hemp oil support in a serving size of 5 pumps. With a fresh and naturally sweet flavor, this oil blend provides advanced support to the body's endocannabinoid and interconnected related physiological systems.*  Naturally balancing and regulating, Urban Alchemy™ Orange Twist™ CBD delivers a potent product for everyday use.
Functional physiological benefits include:
    Calming for mind and body*
    Relief from weary or injured muscles and joints*
    Non-drowsy and fast-acting sleep support*
    Improved focus and mental clarity*
    Improved skin, nails and hair*
    Systemic calming and improved sense of wellbeing*
Urban Alchemy's extracted hemp oil comes from organically grown Colorado hemp plants farmed without the use of pesticides or herbicides. This super-food extracted hemp oil product is tested by third party laboratories to ensure product purity and quality.
Non-GMO  I Gluten-Free I Vegan I  Caffeine-Free I  No Added Sugar I No Artificial Sweeteners or Ingredients I State Licensed FDA Registered Production Facility I Made in USA
Urban Alchemy™ Orange Twist™ 
CBD-rich Full Spectrum Extract 
CBD-rich extracted hemp oil with a full spectrum of naturally occurring phytochemicals and phytocompounds - This advanced blend of extracted hemp oil contains a full spectrum of naturally occurring cannabinoids, terpenes, flavonoids, and many active phytonutrients. Certified Colorado hemp plants are extracted using a low temperature carbon dioxide (CO2) extraction process yielding an extracted hemp oil that retains a full spectrum of beneficial, naturally-occurring phytocompounds from hemp plants that are grown organically without the use of pesticides, herbicides, and harmful solvents.
Fractionated MCT coconut oil |  Medium chain triglycerides (MCT) are fractionated fatty acids naturally found in coconut oil. MCT coconut oil is widely used as a super food in health supplements and is particularly easy to digest.*
Sunflower seed oil | Provides additional nutritional value and flavor.
Natural orange extract | Adds a delicious orange flavor. 
This functional and flavorful oil infusion blend helps to support and regulate the body's interconnected physiological systems.*
Available Sizes:  1 fl. oz (30 ml) 
FOOD AND DRUG ADMINISTRATION (FDA) DISCLOSURE* These statements have not been evaluated by the Food and Drug Administration. This product is not intended to diagnose, treat, cure, or prevent any disease.
CERTIFICATE OF ANALYSIS
Urban Alchemy™ CBD Extracted Hemp Oil Blend Independent Certificate of Analysis 
| | |
| --- | --- |
| Lot # |  1811151 |
| Date |  04/12/19 |
| Certificate of Analysis | |